FragFX Shark 360 (PC/MAC) V2013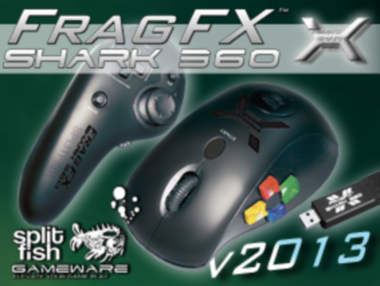 The ultimate gaming experience on the XBOX360! The FragFX Shark 360 V2013 is a significant step forward for the console gaming industry because it not only provides an almost perfect PC mouselike FPS experience for gamers on the XBOX 360, but also provides an easy to adopt, high end, fully programmable analog stick counterpart that make it possible for hardcore PC FPS fans to enjoy their favorite first and third person shooters on XBOX 360, MAC or PC.

The Splitfish FragFX Shark 360 V2013 lets you play FPS games on a console the way the were originally meant to be played - PLUS MUCH MORE. Intuitively aim with a mouse and adjust sensitivity on the fly as well as use advance functions like button remapping, turbo, wrist flick melee and much more with ease.

The FragFX Shark 360 V2013 is designed for simple and intuitive on the fly customization. Also, just like its brother, the FragFX Shark PS3 V2013, the FragFX Shark 360 V2013 has an extra long battery life of more than 50 hours of gameplay and more than 500 hours of standby on 2 AA batteries.
Key Features:
· NEW: multiple deadzones for greater pinpoint accuracy
· NEW: faster Sixaxis response
· play with the mouse on the XBOX 360
*
as you would do on a PC
· plug and Play
· full XBOX 360, PC and MAC support
· more than 50h play time
· more than 500h power save standby
· 1 AA battery per unit (requires only 2 AA batteries per set - batteries not included)
· Fast access to special features (eg macro, rapid-fire, button swap, stick swap, etc.)
· ultra fast wireless 2.4 GHz technology
· easy in-controller setup (no firmware updates required)
· on the fly dead zone adjustment wheel
· SixAxis support
* requires official or licensed 3rd party WIRED XBOX 360 controller to authenticate